Newsletter Autumn 2021
Welcome Note
Dear Reader,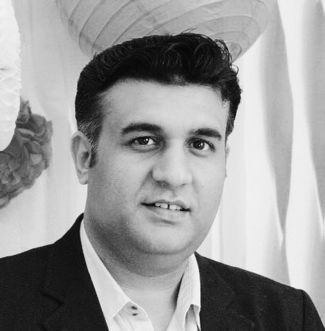 Autumn has settled for good – nature preparing itself for winter and slowing down a little bit, but IoT-NGIN project in the contrary, is progressing very well.

I am pleased to share with you the second IoT-NGIN Newsletter, in which you can find, among others: the project's status updates from last 6 months, an introduction to the project members and the most important thing – the 1st Open Call which is open till 30th December 2021.
We are going to select at least 5 new partners, who will join the IoT-NGIN consortium. So, if you are IoT devices manufacturer, embedded software or FPGA/soft core SME – don't miss the chance to become the part of IoT-NGIN and get up to €150,000 funding for your IoT software or hardware solution.

I hope you will enjoy reading this Newsletter and if you are interested in following the progress and updates about IoT-NGIN, please visit our website and don't forget to follow our social media channels.
Yours sincerely,
Dr. Ghasan Bhatti (Capgemini)
Project coordinator
Project status
IoT-NGIN has been conceived and designed as a fully dynamic platform for IoT, being able to adapt to the needs of modern and legacy IoT environments. Fast paced by design, during the last few months, our project has reached to a substantial number of achievements, starting from the concrete definition of the very element that supports its versatility; the meta-architecture. Indeed, in our latest report, deliverable D1.2, (a draft copy may be found in our website's deliverables section), the meta-level architecture of IoT-NGIN was released and detailed.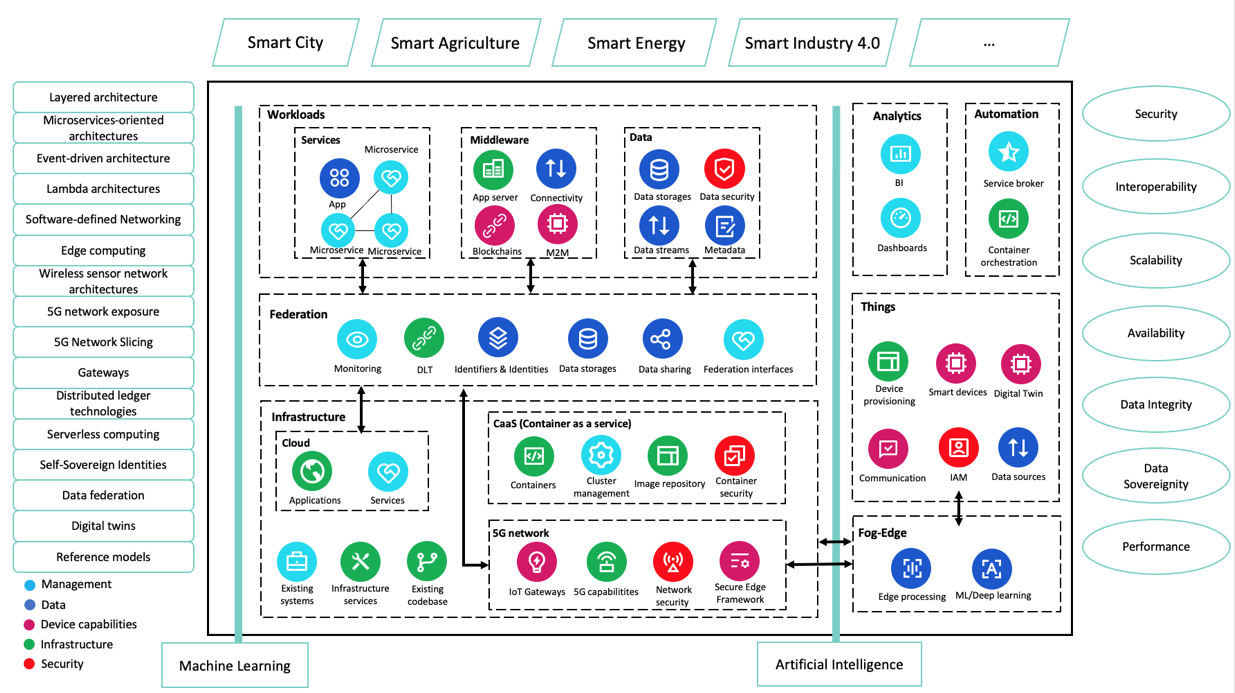 The IoT-NGIN Metaarchitecture
The IoT-NGIN meta-architecture defines the set of technologies and interfaces required for an IoT platform to remain relevant with the IoT domain advances, while also covering the needs of existing, possibly legacy, IoT architectures. The basis for the selection of these elements, stemmed from the extensive study of more than 100 different architectural and technological patterns; after an initial pre-selection filtering process, several of them were extensively analyzed, their key aspects and relevance to IoT-NGIN being documented in D1.2. The identified patterns and technologies concern not only the compute but also the storage, networking and protocol domains, also delivering an overview of the necessary ones, compatibility with which should be claimed in order to identify an IoT architecture as compliant with the IoT-NGIN's meta-one. Apart from the meta-architecture release, the project has progressed well with the developments at the level of network optimization, Machine Learning as a Service enablement, Tactile internet support as well as Cybersecurity and Privacy-by-design, the first reports of which having been already delivered. Compatibility with open-source solutions such as FIWARE, Kubernetes, Kubeflow and relevant Machine-Learning frameworks has been achieved, allowing the open-source community to be directly compliant with our platform developments! Stay tuned for the first release of our first integrated prototype, scheduled in Q1 2022! Since our last newsletter, we could also publish two new papers:
Besides the scientific publications, we would also like to point you to our IoT-NGIN blog, where you can regularly find new texts about all sort of IoT-NGIN related topics.
IoT-NGIN Open Calls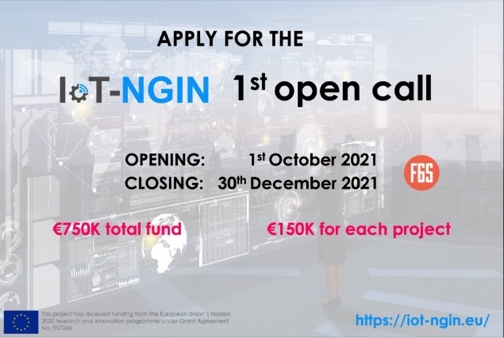 IoT-NGIN is happy to announce that the first Open Call has started and is open for submissions. The first Open Call will select at least 5 new partners, who will join the IoT-NGIN consortium. IoT-NGIN invites IoT devices manufacturers, embedded software and FPGA/soft core SMEs to join the IoT-NGIN consortium by
a) offering open interfaces and access to their IoT systems or
b) embedding IoT software components running on FPGA/soft cores to submit a proposal to the IoT-NGIN Open Call #1.

Submissions will be open until 30th December 2021 (17:00 CET) via the f6s platform. More information can be accessed in our Open Calls section. Related Open Call supporting events will be announced through the IoT-NGIN website.
Invitation to Expression of Interest for External Experts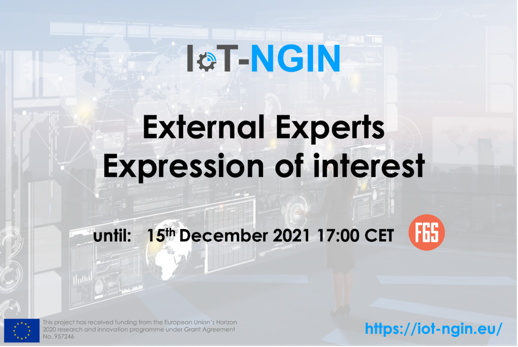 IoT-NGIN will enhance the public awareness and increase the IoT-NGIN community by performing 2 open calls and embracing new members in the IoT-NGIN consortium. IoT-NGIN invites independent, external Experts in IoT related software and/or hardware technologies to assist in the review process of the proposals submitted in the first IoT-NGIN open call. Deadline to submit expressions of interest: 15th of December, 2021 (17:00 CET) If you are interested to participate at the IoT-NGIN 1st Open Call Evaluation Process as an external expert, please apply on f6s.More information can be accessed in our website.
Spotlight: 3 Partners Introduce themselves
Intrasoft

INTRASOFT International (Luxembourg) is a leading European IT Solutions and Services Group with strong international presence, offering innovative and added-value solutions of the highest quality to a wide range of international and national public and private organisations. The company employs more than 2,000 highly skilled professionals, representing over 20 different nationalities and mastering more than 18 languages. With headquarters in Luxembourg, INTRASOFT International operates through its operational branches, subsidiaries and offices in 13 countries: Belgium, Bulgaria, Cyprus, Denmark, Greece, Jordan, Kenya, Luxembourg, Romania, RSA, UAE and USA. INTRASOFT International (Luxembourg) has proven expertise in conceptual system architecture and system design, advanced application development and integration services, information portal management and communication services, and project management. INTRASOFT International's Software Engineers, Analysts and Programmers keep abreast of all major technology innovations and developments that can add value to our business activities. Within IoT-NGIN, INTRASOFT leads the Integration and Laboratory evaluation activities of the project and contributes on the relevant activities providing their well-established expertise. In addition, INTRASOFT leads and participates on cybersecurity related activities that adhere to the development of a real-time malicious attack detector, capitalizing on generative adversarial networks (GANs), confidentiality-preserving federated ML procedures and on-device federated ML poisoning attack mitigation activities. Finally, within IoT-NGIN, INTRASOFT leads and coordinates Open Calls (OC) which aim to enhance the public awareness and increase the IoT-NGIN community ecosystem. Building on relevant experience and proven managerial mechanisms, INTRASOFT coordinates OC related activities ensuring successful and seamless conduct.
Optimum

Optimum, a member of Entersoft Group, has been a leading provider of Supply Chain IT Systems for over 20 years. The company's technology offers the foundation for the development of solutions in a plethora of markets, with success stories in Greece, across Europe, as well as in North America. Optimum's flexible and modular technology is developed to meet the needs of any size, complexity and difficulty, providing a solid, reliable and yet fully scalable environment for the Supply Chain Management. The engine that drives OPTIMUM's success has been the development of aberon, a popular Supply Chain Management software platform. Aberon is a comprehensive platform, ideal for enterprises that look to improve their operations and increase customer satisfaction. With its flexible, modular and scalable architecture, it provides a user-friendly, manageable basis for projects of any size or complexity. The aberon series includes solutions for warehouse management, warehouse automation, and sales forecasting and inventory management. As aberon support services, we offer deployment planning and installation of aberon, as well as personnel training. Indicative clientele in the figure. Optimum offers a wide variety of cloud-based IoT solutions that complement the company's rich portfolio. For example, Optimum picking automation solutions provide smart and cost-effective picking routes, which allow distributors to optimize profits by maximizing the flow of products as well as service levels. Distributors who are currently using the aberon platform have stated that they have experienced an increase of at least 100% in productivity, minimizing picking errors. Optimum's leading position in the market is a result of the company's commitment and intensive focus on R&D activities. The R&D Team are working to expand the existing IoT series with auto discovery and self-organization add-ons, and enhanced security and privacy parameters; given the need to safeguard access to data and ensure the uneventful integration of new sensors, RFID and devices, while also securing interactions with cloud environments. Optimum's contributions to IoT-NGIN are towards Living Labs validation, as we lead the smart agriculture use cases and participate in open data management plans and pilots' set-up. Optimum leads the activities towards an ambient, intelligence-based control mechanism for IoT systems. Finally, Optimum will contribute to the project's launch, taking part in the development of the exploitation and sustainability plans.
ATOS

Atos is a global leader in digital transformation with 105,000 employees and annual revenue of over € 11 billion. European number one in cybersecurity, cloud and high-performance computing, the Group provides tailored end-to-end solutions for all industries in 71 countries. A pioneer in decarbonization services and products, Atos is committed to a secure and decarbonized digital for its clients. Atos operates under the brands Atos and Atos|Syntel. Atos is a SE (Societas Europaea), listed on the Next 20 Paris Stock Index. The purpose of Atos is to help design the future of the information space. Its expertise and services support the development of knowledge, education and research in a multicultural approach and contribute to the development of scientific and technological excellence. Across the world, the Group enables its customers and employees, and members of societies at large to live, work and develop sustainably, in a safe and secure information space. Atos participates in IoT-NGIN project through the Artificial Intelligence, Data and Robotics unit of Atos Research and Innovation (ARI). ARI is part of the Global Strategy and Innovation group of Atos focused on the development of products for BigData, AI and cybersecurity, exploiting the capabilities of Atos advanced computing infrastructures. Within IoT-NGIN project, Atos main role is to lead the development of enabling technologies for the convergence between Artificial Intelligence and computing infrastructures including IoT devices, edge resources and cloud platforms. Atos will research about new techniques for the usage of deep learning and reinforcement learning paradigms to enhance training processes, confidentiality-preserving federated ML models and model sharing between several frameworks.
OneLab as IoT-NGIN testing facility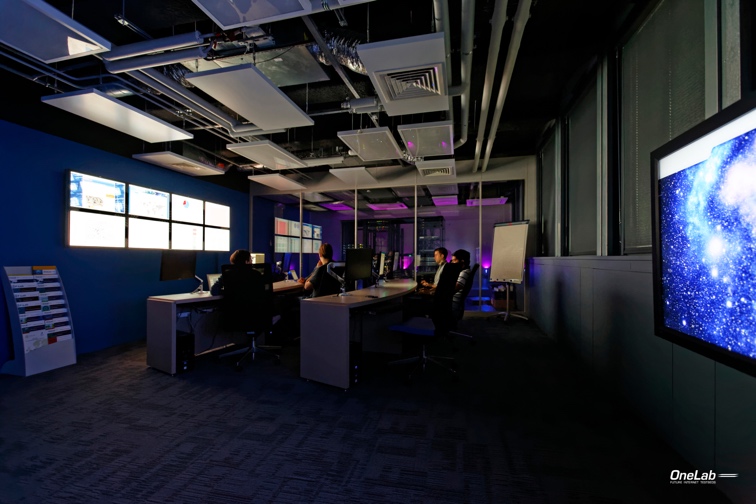 We would also use these newsletters to introduce you to the testing and validation infrastructure of the project. This time we will start with OneLab. The OneLab facility is a state-of-the-art test platform for exploring the design of digital infrastructures. It provides control and remote access over a large and diverse set of virtualized and programmable resources from IoT to Cloud and offers the possibility to run a large-scale experiment combining multiple heterogeneous resources federated through one single portal. OneLab provides a large set of IoT resources including mobile and wireless IoT devices equipped with various sensors such as ambient light, temperature, atmospheric pressure and temperature sensor, tri-axis accelerometer, tri-axis magnetometer, tri-axis gyrometer and also cloud and bare-metal resources allowing experimentation with cloud-based technologies. It offers, through the federated NITOS Lab facility, a SDR (Software Defined Radio) testbed consisting of wireless nodes attached with USRP devices and a SDN testbed equipped with multiple OpenFlow enabled switches to run experiments with network switching and routing protocols. In scope of the IoT-NGIN project, SU will provide full access to the OneLab facility as an Integration Infrastructure for tests, validation and integration of the different IoT-NGIN components at laboratory environment.
Upcoming Events
The IoT-NGIN partners are especially excited about the upcoming IoT events:
Copyright © IoT-NGIN 2021. All rights reserved.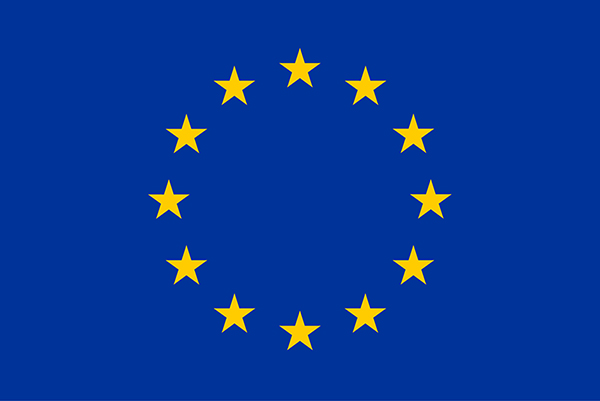 This project has received funding from the European Union's Horizon 2020 research and innovation programme under Grant Agreement No 957246
Contact us: info@iot-ngin.eu
To unsubscribe from this newsletter, please Click here.
IoT-NGIN respects your privacy. Review our online Privacy Policy
---