The manufacturer of agricultural machinery leverages the Bosch IoT Suite for data management.
Problem
Engineers are building ever more sophisticated farm machines to meet the expectations of an increasingly demanding agribusiness. But ease of use is still a major selling point for farmers.
Solution
HOLMER developed a remote diagnosis and maintenance package for its machines called EasyHelp 4.0. Service technicians use it to pull data from the IoT and learn more about the condition of farming equipment. Bosch IoT Suite services provide the technical capabilities to do this.
Benefit
Maintaining HOLMER agricultural machinery is so much easier with this solution. It keeps service technicians in the loop about which components require repairs and which spare parts are needed.


Challenging times for manufacturers
Dr. Michael Gallmeier is head of R&D at HOLMER, the world's leading maker of self-propelled sugar-beet harvesting machines. He says that manufacturers of agricultural machinery currently face two major challenges: "Machines are becoming more and more complex in order to meet the ever-growing requirements of the market. But, at the same time, customers need to know that the machines are still easy to operate." HOLMER has now developed a solution that meets precisely these challenges: EasyHelp 4.0 is a remote diagnosis and maintenance package based on Bosch IoT technology, comprising hardware, software, and services.
IIoT: How to increase transparency and operational efficiency
https://bosch-iot-suite.com/knowledge-center/white-paper/remote-device-management-for-industrial-assets-2/
The need for agricultural IoT data
The harvesting period for sugar beet is relatively short. In most countries, the harvest lasts from September to November. Everything must run like clockwork: the crop is fetched from the fields and then taken immediately for processing in a nearby sugar plant. On average, a plant processes around 20,000 metric tons of sugar beet a day. "It's vital that the harvesting machines perform reliably at this time," Gallmeier explains. "If not, there's a danger that production at the sugar plants will grind to a halt."
Gallmeier is driven by a desire to innovate. He is constantly on the lookout for ways to improve and simplify the process. "Automation is at the heart of what we do. Enhanced connectivity between agricultural processes gives us the opportunity to integrate machinery more effectively and improve the flow of information between individual process stages, both upstream and downstream."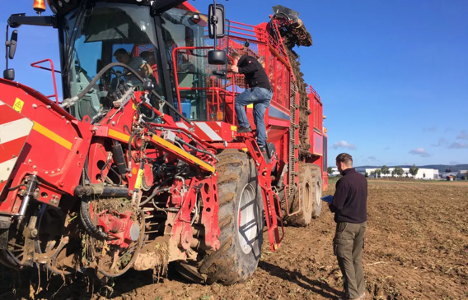 "Easy Help 4.0 means our service department can view the agricultural IoT data of our customers," Gallmeier explains. "Naturally, we don't do this without their authorization." In the event of technical problems, a HOLMER service technician can provide the customer with live support. "And should the machine require repair," Gallmeier adds, "the technician knows which spare parts to take. That saves time and money.
When developing EasyHelp 4.0, HOLMER opted to build the package around solutions from Bosch. Specifically, this means elements of the Bosch IoT Suite from Bosch.IO:
The harvesting machine is fitted with a Bosch telemetry module, which gathers data relating to the process, job, and machinery
The Bosch IoT Remote Manager handles module connectivity, administration, control, and updates
This data then transfers to the Bosch IoT Cloud via a cellular network
Bosch IoT Insights stores the data and provides tools to process it
Working together with HOLMER, we have built, on the basis of standard dashboards from Bosch IoT Insights, a website for the service department that visualizes the data in the form of graphical displays
EasyHelp 4.0 also features interfaces to digital farm-management solutions. These enable HOLMER customers to supervise their vehicle fleet at arm's length, including tasks such as sending new jobs to individual harvesting machines, planning refueling schedules, and providing relief drivers with information for the optimal setup of the machine.
Expert panel: Over-the-air updates for off-highway machinery
https://bosch-iot-suite.com/knowledge-center/on-demand-webinar/expert-panel-ota/
A new way of working
"It's a completely different way of working compared to what we're used to," Gallmeier says. "The cooperation with the Bosch team is very dynamic. They actively communicate with us and are always available whenever we need help. The end result is an exceptionally practical solution. And that's what we're also hearing from our customer service department."
It was in early 2017 that HOLMER began looking for a suitable partner to develop a service package. "We're talking here about highly sensitive data," Gallmeier explains. "Neither we nor the farmer or contractor want to see any of this data going astray." HOLMER was therefore keen to find a reliable partner who could host the agricultural IoT data in Germany, ensure that it remained permanently available, and also guarantee that it wouldn't end up in the wrong hands. "Bosch offered to help us out. And their IoT platform will guarantee us the availability and reliability we need over the coming years."
How to make the most of your agricultural vehicle data with the IoT
https://www.youtube.com/watch?v=retGltt3Y9U&feature=youtu.be
Looking ahead
For HOLMER, the next move is to enable over-the-air updates. This will provide customers with additional and enhanced functionality without them having to bring their machinery into the workshop. "Bosch also provides us with the infrastructure we need to combine data from different sources in order to generate algorithms that will give our customers added utility. For example, we can combine meteorological data with soil data in order to provide customers with useful information." For Gallmeier, data security remains a top priority at every level: "It's vital to ensure that nobody from outside can gain access to the vehicle." Here, Gallmeier has been able to call on Bosch's wide-ranging experience in the field of secure vehicle communications.